Subcarpati 2022 – Electric Ballroom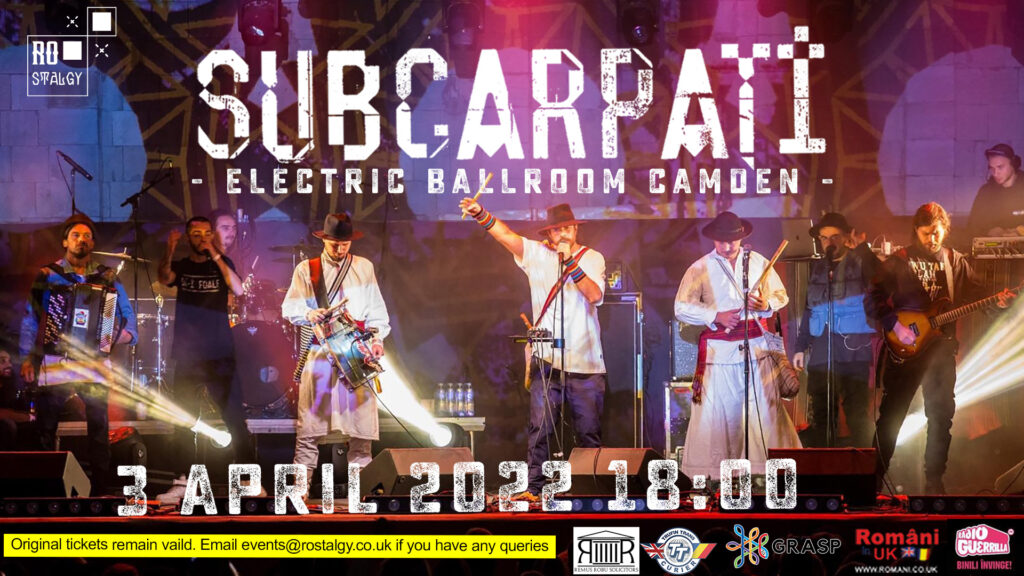 Please Note: 14+(under16s must be with an adult and photo ID) 
All wheelchair users and people needing special seating must purchase a general admission ticket first, then contact the venue via email – [email protected] prior to the event and suitable seating will be arranged. One carer for each wheelchair user will be admitted free of charge. The front door staff will assist wheelchair users to a raised platform which is near the stage and adjacent to a fire escape. They will also direct people to a disabled toilet and a low counter bar area where there is a small ramp, so that they can be easily served. 
Datorita restrictiilor de calatorie in UK care sunt in efect la momentul de fata, in concordanta cu indicațiile guvernului britanic si cu instrucțiunile managementului clubului Electric Ballroom, concertul Subcarpati, planificat initial pentru data de 18 Aprilie 2020 va avea loc pe  3 Aprilie 2022.
Biletele originale raman valabile.  Dupa cum probabil va imaginati , sunt vremuri extrem de dificile pentru formatii , localuri si organizatori . 
Sustinerea voastra inseamna foarte mult pentru noi, si ne va permite sa continuam sa organizam evenimente pe viitor.
 Ne cerem scuze pentru problemele cauzate si va multumim ca sunteti alaturi de artisti si organizatori .
____________________________
 Cel mai aseptat eveniment al anului : Subcarpati  la legendara sala Electric Ballroom Camden Town  : 3 Aprilie  2022 
Subcarpati e un mix exploziv între muzici tradiționale românești și beat-urile zilei de azi. O combinație eclectică prin care ne reoxigenăm cu folclor românesc, instrumente tradiționale și ritmuri de trip-hop, dubstep, rap sau dancehall. 
Electric Ballrom
184 CAMDEN HIGH STREET, CAMDEN TOWN, LONDON, NW1 8QP 

3 Arilie 2022 ora 18:00