Fratii Grime + Argatu & Mos Martin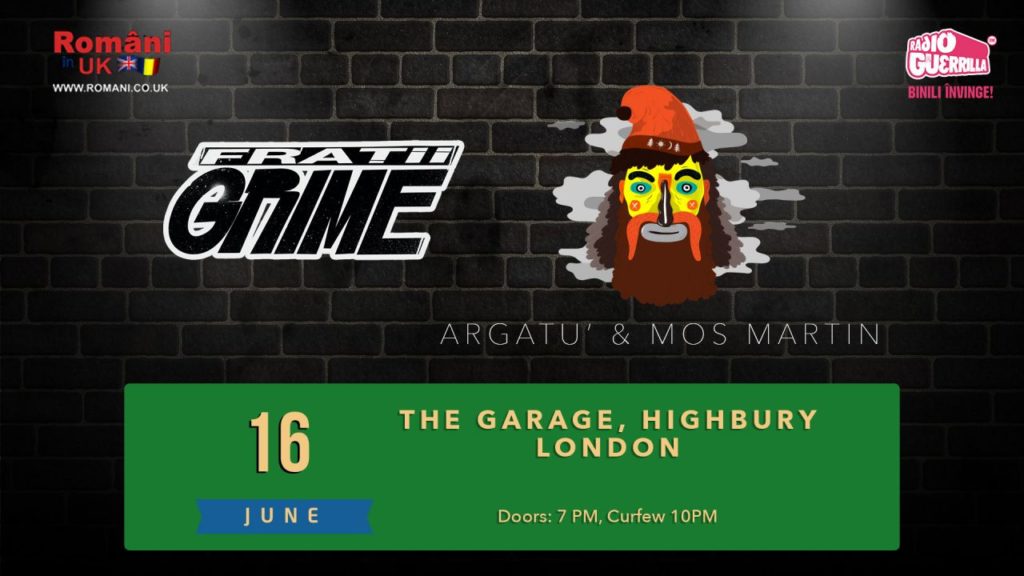 Fratii Grime + Argatu & Mos Martin
No Credit card ? No problem Tickets can be purchased in person from Stargreen Box Office 20/21A Argyll Street London W1F 7TT Monday to Friday from 10.15am – 7pm, Saturday 10.15 – 6pm . 
Any queries ? email [email protected] 
FRATII GRIME
Fratii Grime started out in 2012 and since then has progressed to one of the most energic projects in the roster, performing on some of the biggest local scenes and at international fests and venues. 
VICE.com called it "a breath of fresh air that gives hope for the future" Performing a complex sound, generally around 140 beats per minute. Their lyrics and music merge futuristic electronic elements and dark, deep bass lines, delivering strong messages and punchy bars. The group was born out of love for the legendary Grime freestyle cyphers. In time, it has progressed to a mature formula which now includes but is not limited to: Power pe Vinil, Bean MC, Fanescu and Psihotrop.
https://www.facebook.com/FratiiGrime/ 
Put simply, the name of ARGATU, meaning a sort of farming servant from a time gone by, reminds us of rural Romania, echoing tradition and folklore. 
Argatu is a young and enthusiastic artist and music producer who worked his way up from Romania's north eastern region of Bucovina. 
His debut collection " Culese din cartier" successfully combined original sampling, with hip hop , rap, instrumental, dub & dance hall. 
In a nutshell, the Argatu' sound is best summed up as the past and the present brought together. 
Argatu: 
Htttps://subcarpati.com/culesedincartier/argatu/
https://www.facebook.com/culesedincartierprezintaargatu